WELCOME TO NARROMINE GLIDING CLUB
COVID-19 RELATED RESTRICTIONS
NARROMINE GLIDING CLUB IS CONTINUING TO TAKE BOOKINGS FOR THE 2020 AND 2021 SEASONS.


Narromine Gliding Club is keen to resume gliding operations as soon as the COVID-19 related restrictions will allow. We are currently taking bookings for the 2020 and 2021 seasons in anticipation of the COVID-19 related restrictions being lifted sufficiently for us to operate.

All forward bookings will be honoured subject to the COVID-19 related restrictions prevailing at that time.

We look forward to your company and a hugely fun and engaging soaring season.


2021 AUSTRALIAN TWO SEAT NATIONAL GLIDING CHAMPIONSHIPS
NARROMINE GLIDING CLUB IS HONOURED TO BE SELECTED TO HOLD THE 2021 AUSTRALIAN TWO SEAT NATIONALS IN FEBRUARY 2021.


The NCC has entrusted Narromine Gliding Club to conduct the Two Seat Nationals gliding competition again in 2021. The competition dates are 20 - 27 February 2021 with a practice day on Saturday 20 February 2021.

The competition is specified as a single class event for both 20m 2 Seat Class gliders and Open Class which is ANY 2 Seat Glider. The competition will be run in accordance with the GFA National Competition Rules with GFA National MultiClass Handicaps.

We look forward to you joining us for a challenging and fun competition


G DALE PERFORMANCE CROSS COUNTRY COACHING COURSE
Don't miss out this year!! We were fully booked for 2019! Now is the time to make your reservation for 2020!

Author and World Renowned Gliding Coach G. Dale is the 2018 British National Club Class Champion and you can fly with him at Narromine in November and December of 2020!!
G is the author of "The Soaring Engine" (now in two volumes) and will be running his brilliant full time 5 day cross-country performance gliding coaching course each week at Narromine starting Monday October 26 2020 right through to Friday December 20 2020.
The course offers both theory and practical training. You will be flying one on one with G in the Narromine Duo Discus or you can fly a lead and follow with G in your own glider.
TO LEARN MORE ABOUT THE COURSE AND BOOK TO FLY WITH G DALE CLICK HERE
Available Course Dates for 2020 are as follows:
26 to 30 October 2020

2 to 6 November 2020 (Already Booked)

9 to 13 November 2020

16 to 20 November 2020

23 to 27 November 2020

30 November to 4 December 2020 (Already Booked)

7 to 11 December 2020

14 to 18 December 2020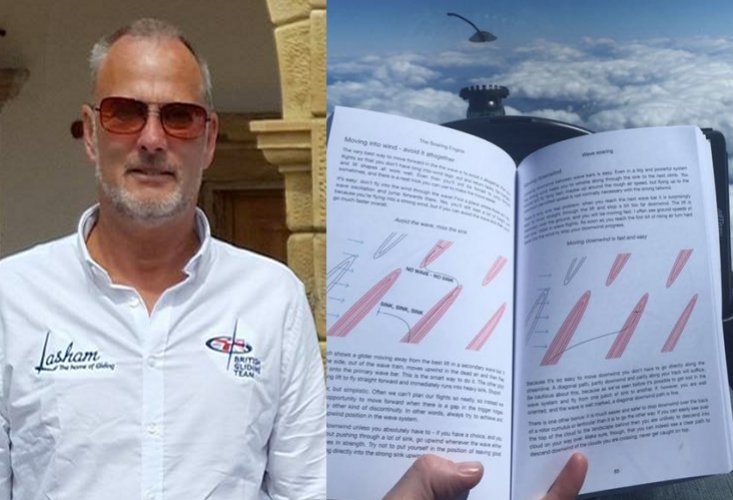 2020 AUSTRALIAN TWO SEAT NATIONAL GLIDING CHAMPIONSHIPS
NARROMINE WAS ASKED AT THE LAST MINUTE TO HOLD THE 2020 AUSTRALIAN TWO SEAT COMPS IN FEBRUARY 2020 AND WE DID IT!!!.


The NCC requested Narromine Gliding Club to relocate the Two Seat Nationals competition to Narromine but to retain the same dates of 16 - 22 February 2020 with a practice day on Saturday 15 February.

The competition was specified to be be a single class event for both 20m 2 Seat Class gliders and Open Class which is ANY 2 Seat Glider. At the end of the day there were only 20m Two Seat Gliders entered and the competition was run in accordance with the GFA National Competition Rules with GFA National MultiClass Handicaps.

We didn't have a lot of time to get a competition up and running but in the end we ran with Twelve confirmed entries!

CONGRATULATIONS TO EVERY ONE WHO COMPETED IT WAS GREAT FUN, AND AS ALWAYS, A CHALLENGING COMP!

CONGRATULATIONS TO THE WINNERS:

1st Place: Brad Edwards and Bruce Taylor - ASG 32Mi

2nd Place: Harry Medlicott and Allan Barnes - Arcus M

3rd Place: Adam Woolley and Keith Gately - Arcus M

https://www.soaringspot.com/en_gb/2020-australian-two-seat-nationals-narromine/



BOOK HERE NOW FOR YOUR MID WEEK FLYING TRAINING COURSE
Narromine Gliding Club now offers full time mid week training Monday Through Friday during the October 2019 to March 2020 soaring season.
Our training courses are supervised by a Level III Instructor and cover the full GFA syllabus from Ab Initio through to GPC and Silver C.

Naturally normal club operations and training at weekends will continue and don't forget our Sunday evening BBQ! We can also now offer mid week Cross Country Coaching by arrangement.
TO LEARN TO FLY AT NARROMINE GLIDING CLUB CLICK HERE
NARROMINE CHOSEN TO HOST 2022 WORLD GLIDING CHAMPIONSHIPS
The recent IGC meeting held in Turkey has awarded the 2022/2023 Standard Class, 15m Class and Club Class World Gliding Championships to Narromine!

The 2022 World Gliding Championship will actually be held at Narromine in January 2023, which makes timing more convenient for International teams to ship gliders to Narromine and fits in better with European holidays.
The soaring conditions in Narromine are excellent at that time of year.

Narromine was the venue for the 2015 Junior World Championship, which was very successful, flying on 10 out of a possible 11 contest days.
It was the venue where Australian glider pilot Matthew Scutter became World Champion in Standard Class.

Narromine Gliding Club is honoured to be selected by the IGC and we look forward to hosting an amazing gliding competition.
If you would like to be a part of the organisation and running of this World Championship Competition please go to the Contact Us page and tell us about yourself and how you can help.

Training Dates 4 - 6 Jan 2023
Competition Dates 8 – 21 Jan 2023




CLICK HERE TO REGISTER YOUR INTEREST TO ASSIST




COME AND FLY WITH US ON AIR EXPERIENCE FLIGHTS
Experience the real feeling of flight in one of our advanced twin seat fibre glass soaring aircraft.
Under the control of your experienced and certified passenger carrying pilot you can just look out and take photos or see how easy it is to control your glider in flight.

Take advantage of our new offer price, only $230.

We fly most Sundays but check by emailing us with how many people you want to fly. Join our club and learn to fly and your time on these flights is included in your total aeronautical experience!


Call or email Narromine Gliding Club today.
Phone: +61 2 6889 5338 or Cell Phone: +61 407 459 581